Tank Hose Bracket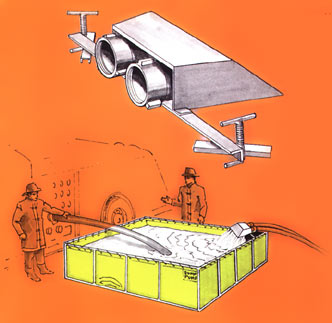 Clamps to corner of Dump & Pump portable water tank to hold fill hoses securely to tank. Diverter shield directs flow of water down into tank to minimize splash and prevent whirlpooling.

Firl Tank Hose Bracket is fastened quickly and conveniently to Dump & Pump Tank. Yoke is placed across corner of tank. Spring loaded swivel clamps on each end of yoke are simply pushed down, turned in and released to hold Hose Bracket in place on tank frame. The Hose Bracket has two female swivel couplings to which the fill hoses are attached. The Hose Bracket can be released from tank just as quickly.

The Firl Tank Hose Bracket is made of rugged heavy gauge steel. All parts (except couplings) are zinc plated to prevent rusting. The yoke measures 30 inches. The two female swivel couplings are lightweight anodized aluminum with standard threads.