Hose Bed Cover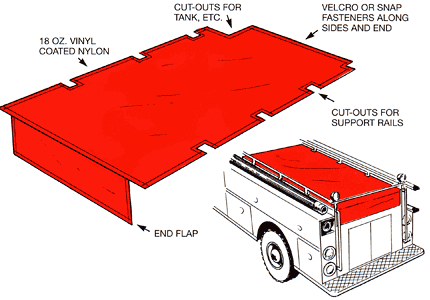 Hose Bed Cover protects hoses; keeps them neatly in place for fast action. Mounts over bed and can be fastened with either Velcro strip along sides and end, or with snap fasteners. Cut-outs can be made for support rails, tanks or other gear per your requirements. Cover has end flap for quick and easy access for removal of hose without removing cover.

Made of 18 oz. tear resistant vinyl coated nylon material. Available in either Fire Red or Safety Yellow. Has double stitched hem around perimeter with either Velcro or snaps installed on edge.

Covers with Velcro sewn on edge are furnished with corresponding adhesive backed Velcro to be attached to truck body.

Covers with snaps are furnished with male portion and sheet metal screws or pop rivets for installation on truck.

For a free quotation on your custom-made Firl Hose Bed Cover, please contact us.