Shop Curtains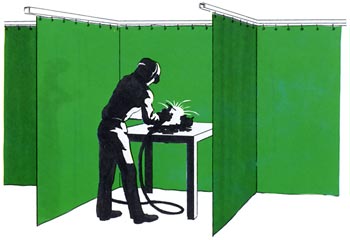 Area Partition
Control drafts by enclosing loading dock areas, closing passageways and partitioning work areas. Isolate welding and other hazardous operations from work areas.

Firl Shop Curtains will close off paint spray areas or temporary assembly operations. When curtains are pulled aside, entire area is again accessible for larger projects... divide production areas for more controlled product flow... control drafts by enclosing indoor or outdoor dock areas.

Firl Shop Curtains are made of heat and flame-resistant treated materials... finished to your dimensions of any width or height. Grommets are 12 inches apart in top hem for curtain hooks or rings. Can be hooked or tied to overhead pipe to enclose areas or use with roller track for easier handling.

Roller Track Assembly for easy handling of curtains of any width and up to 25 feet high. Heavy duty 16 gauge galvanized steel track assemblies mount on walls, ceilings, or stand free on floor to form partitions, booths and enclosures.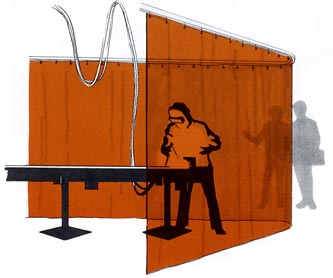 Corner Partition