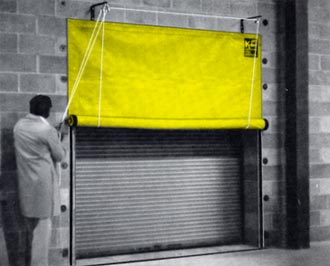 Velcro (black strips) seals around doorway and
releases easily as door is rolled up.




If cold air is leaking in around poorly fitting doors or if drafts through open passageways are wasting expensive heat or conditioned air, K-Doors will end those problems economically.

These are actual photos taken after a K-Door installation in a new building. Until K-Doors were installed, the drafts through the new doors inside the shipping room were so great insulation had to be stuffed around doors.

K-Doors have proven by actual use to be an efficient, practical and economical way to seal doorways. Some of the many K-Door users are General Electric, C.E. Air Preheater, United Airlines, Menasha Corp., and Signode Corp.

K-Doors seal securely, retaining heat or conditioned air. They can be installed inside or outside of passageways, without removing old doors.

K-Doors are flexible, roll-up doors featuring Velcro touch grip fasteners on the sides. The Velcro fasteners seal the sides and form a secure closure when the K-Door is rolled down across the doorway. The K-Door rolls up quickly and compactly to the top of doorway when not in use.

K-Doors are ideal for inside or outside installations for closing off areas where drafts, fumes, steam, humidity or temperature must be controlled, such as shipping and receiving rooms, paint rooms, heated and air conditioned areas.

K-Doors are custom made to fit your requirements. They are easily adapted to large openings, unusual conditions, and can be made to fit around obstructions such as pipes and railroad tracks.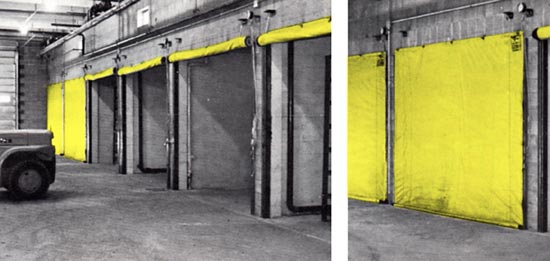 Proven in use throughout the world for conventional and automatic block systems, pipe, tile, pre-cast sections, bricks, steps, silos, and other special concrete products curing kiln systems.





The most practical, low cost, low maintenance way to seal concrete curing room doorways.



K-Doors are flexible, roll up doors especially designed for concrete curing room doorways. They can be installed on new or existing ports. K-Doors have proven themselves as the most practical way to seal concrete curing room doorways and are safer than metal or plywood overhead hanging, swinging or sliding doors. K-Doors roll up compactly at top of doorway and, when unrolled across opening, seal and form a secure, flexible closure. No snaps, hooks or tie downs are used. They can be swung up to ceiling if space permits. K-Doors cannot warp, bind, or rust.

Rugged Construction
K-Doors are custom made to fit your kiln. Featuring K-prene a special material which is flexible, rolls up compactly, and is not affected by steam or water. It is almost impossible to puncture or tear even after years of service. K-Doors have been subjected to temperatures of 225 degrees with no leakage around the Velcro fasteners. Reinforced with 10" wide panels along rope system. All joining seams are double stitched and glued for longer life. K-Doors feature 2", 3", 4" or 6" Velcro fasteners on the sides of the door to seal the opening or if interior or exterior conditions warrant it.

Velcro Aluminum Fastener Strips
For sealing sides of K-Doors. Velcro is glued and stapled to aluminum strips. Strips are glued or nailed to door frame. The Velcro Aluminum Fastener Strips are a more convenient, more secure method of fastening the Velcro Strips. Available in 2", 3", 4" and 6" widths in 4 ft. lengths.

Velcro aluminum Fastener Strips can be glued in place with an adhesive for a fast, secure mounting. The adhesive bonds aluminum strips to metal, wood, or masonry door frames. Not affected by steam, heat, or cold. Bonds securely and permanently in place without nails, screws, or other fasteners. Just apply glue to back of aluminum strip and surface of door opening and mount strip to surface.

Call or email for more information on the K-Door.