Log Carriers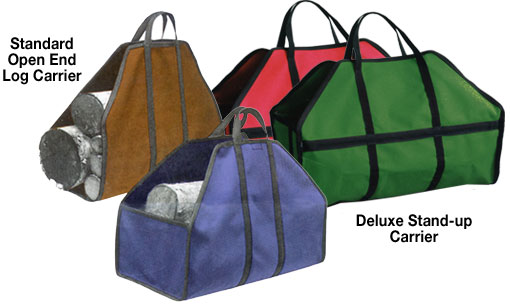 Firl Log Carriers are the clean and easy way to carry wood for the fireplace or wood burner. Firl Log Carriers are balanced to make the load easier to carry and their design keeps more dirt and chips off the floor.



Canvas Log Carriers


Made of rugged 18 oz. duck, a firmer, more durable weight than used in cheaper carriers and they are reinforced with web trim on all wear edges and seams. Extra strong web handles go all the way around bottom under load for maximum support and balance.

Colors: blue, green, hunter green, alpine green, black, red linen, navy, western tan, silver.

F11 Standard Log Carrier
Opens flat and wraps around load. Will take any length log. A big help in handling logs to be cut up. Measures 21" long by 43" .




Deluxe Stand-up Carrier


Stands up and open for easy loading of logs and firewood.

The Deluxe Firl Stand-up Log Carriers have Deluxe End Panels to hold in dirt and chips The end panels are supported with heavy 40 oz. vinyl and the sides are reinforced with fiber rods to hold the carrier in open position for convenient loading. The vinyl supported end panels are flexible and the carrier can be folded compactly when not in use.

S22 Deluxe Stand-up Log Carrier measures 21" long by 16" high by 11" wide.

S33 Jumbo Stand-up Log Carrier measures 25" long by 18" high by 12" wide. Will hold extra large loads.