Book Mailers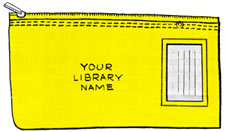 Books by Mail.


If the books can't be brought to the library, they can be sent safely by mail in this rugged, zippered pouch. Tough, heavy duty hypalon material will take plenty of abuse and is not affected by weather extremes. A transparent 2-1/2" x 3-1/2" mailing label pouch is sewn on one side for mailing information. Available in red or yellow.

Stenciling:
We will stencil the name of your library system on one side of each pouch at no extra cost.

Sizes:
Pouches are made in two popular sizes. Special sizes are available on request.
12" x 8" and 14" x 11"