Art Print Bags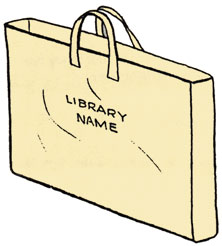 For the Library Art Rental System



This is a safe, convenient way to carry bulky, hard-to-handle art prints. Protects frames and prints from nicks, scratches and dirt.

Firl Art Print Bags are made of heavy-duty, #12 natural canvas duck, with sturdy nylon web handles. There is a 3-inch gusset in all bags.

Stenciling:
We will stencil the name of your library system on one side of each bag at no additional cost.

Sizes:
Library Bags are made in a wide range of sizes. All sizes have 3" gusset.